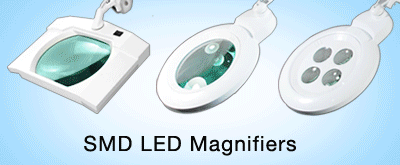 Boli Optics Magnifying Lamps use the newest SMD LED Lights
Brighter • More energy efficient • Lasts 2x long as regular LEDs • Up to 100,000 hours of light • 4 adjustable brightness levels
Read our article: Why are SMD LEDs Lamps Better for You?
---
Professional SMD LED Magnifying Lamps
For beauty salons, technicians, reading, hobbies & crafts. Aids with glaucoma/macular degeneration.
ESD Safe (anti-static) for soldering, PCB, electronics work.